With free delivery and returns becoming industry standard, most people shopping online are not even interested in opening a size chart. Our experience shows that less than 3% of customers will actually open a size chart before making a purchase. Such behaviour should not come as a complete surprise when considering the variety of formats and contents of every retailer's size charts. It is no wonder customers never really want to use them.
Let me share a real life experience with a conventional size chart from a retailer's website. I am after women's slim fit jeans. I believe I am size 27, but just in case I thought I will check what are size 27 jeans.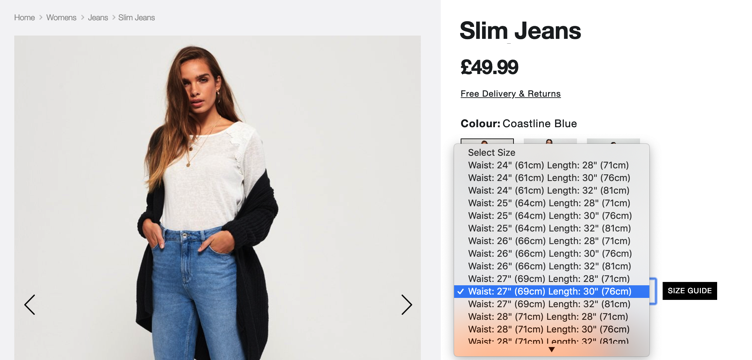 I click on SIZE GUIDE and the denim size guide is displayed. Looking at it, I have encountered my first challenge: there is no size 27 here, despite the size being available to select from the size selector drop down menu. Now looking at size 26, it says 66cm while size 28 is said to be 71cm. Scrolling back up to drop down menu, I can see size 27 is listed as 69cm. After spending time to scroll up and down I am still not sure what size will fit me, since difference in centimetres for every inch is not consistent. At this stage, I think I have reached the same conclusion as any other customers… I should order two or three sizes to try, and return the ones that don't fit.

Thanks to free delivery and returns, customers can try clothes on and let's be honest, don't bother wasting time trying to understand size guides.
In this instance one or two items will be sent back. Retailers will obviously not be very happy due to high cost associated with returns: storage, picking, packing, delivery, return, inspecting, packing and bringing back to storage. As a result, the overhead cost of selling jeans online can become very significant. To go one step further, retailers soon realise that they need a lot of extra inventory to be able to sustain customer demand Since part of their stock is always in logistic network circulating to be tried on. Furthermore, at the end of the season, the extra circulating garments will be sold at a discount, as it was excessive inventory in comparison to real customer demand.
Prime AI has an ingenious solution and offers to replace traditional size chart with personalised and accurate instant size recommendations powered by artificial intelligence.
By simply adding 2 lines of JS library code to a retailer's product description page to deliver Prime AI's instant size recommendation widget, customers can get immediate access to their most suitable size. The technology removes the need for customers to study size charts, and increase their confidence in purchasing the right size first time out.
The results speak for themselves:
- Sales going through Prime AI size recommendation widget have conversion ratio between 50% and 100% higher than sales without any interaction with it;
- Returns of garment purchased using Prime AI personal size recommendation have significantly lower returns than similar items purchased using a standard size charts. With again, a reduction in the order of 50%.
Prime AI artificial intelligence technology uses proprietary designs, where neural networks and deep learning can go to very fine granular details when making decision about suitable size for each customer and each garment. You will most likely have seen other companies offering similar statistical solutions. PRIME AI offers a dedicated team of experts in artificial intelligence, but also with hands-on experience in fashion business and retail. We are proud to provide you with a unique technology, but also to give you free, valuable and actionable insights into how to optimise your business to reduce costs and mitigate negative impacts to the environment.
We tailor build our solutions to every company, no matter how big or small. Contact us for a free demonstration or simply to find out more about what we can do for your business.